Whether you love 'em or hate 'em or love to hate them, celebrities often set the fashion trends, and the media makes a big deal out of the do's and don'ts of celebrity fashion. But this isn't really about celebrity fashion sense. It's about the few female celebrities who have tossed aside chic for geek and had no problems letting the whole world see them pay homage to the various female comic book characters that have been engrained into pop culture. I was actually surprised at just how many have done so.

So this hub is an homage to them. This won't include actresses who inhabited the role on film or t.v., nor celebrity females who were photoshoped wearing the costume. These are the ones who just decided to cosplay as some of our favorite superheroes because they felt like it.

So here we go!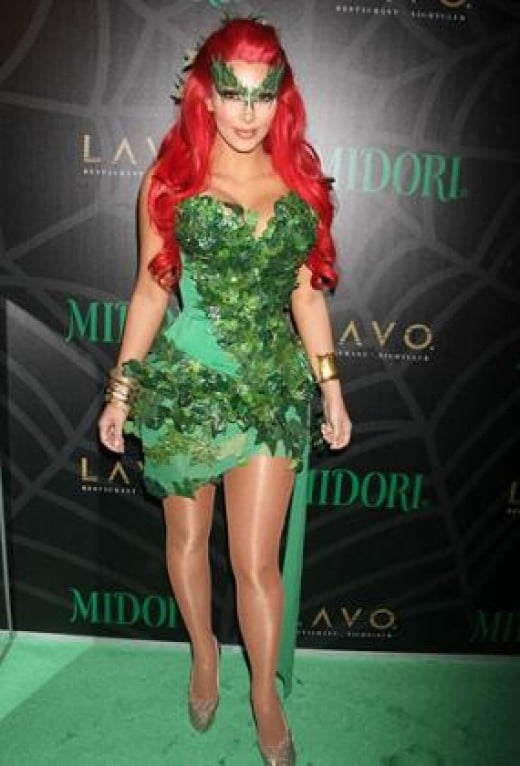 Kim Kardashian As Catwoman and Poison Ivy
Ah, whether you dislike the Kardashians or not, they have dressed up as various DC Comics characters for a few Halloweens, and that's super cool by me. I think it's cool just to see people dressed as their favorite comic characters regardless.
To be honest, I don't really know the Kardashians, nor do I really follow that much up on celebrities to begin with. So, I honestly don't care how many plastic surgeries who has had in that family or for what. And although I know we just love to rip on celebrities for most everything under the sun, let's stay on the topic at hand.
Take Kim Kardashian, for example. Not only did she dress up as the movie version of Catwoman, in which I think she looked quite great and captured the sultry feline comic hero, she has also dressed up as Poison Ivy as well. Her Poison Ivy costume was pretty cool and unique, and it was not based off Uma Thurman's Batman movie costume. Bonus points on that!
Then Kim dressed up as the creme of the creme DC Comic female superhero of all time - Wonder Woman. Although, her Wonder Woman costume was greatly panned by many due to the black leggings she wore, but I thought she still looked great in the outfit.
However, geeking out on Halloween seems to run in the family, for sister Kourtney also dressed up as Batgirl or Batwoman. No Batgirl and Batwoman are not the same character. Actually, Batwoman came before Barbara Gordon stepped into her Batgirl costume and started fighting crime. Batwoman was an earlier character who didn't last very long in the Batman comic series. Okay, despite that face, Kourtney showed that she can be just as comic geekie as Kim, and I think she pulled off the costume remarkably, as you can see from the photo of her and her sister kicking off this hub.
I'm going to put in a request for Kim to dress up as Zatanna one of these Halloweens. I think she'd look amazing. Then again, I am wondering if she's more of a DC girl, because she's yet to dress up as a Marvel female superhero as of yet. Hmmm. What's up with that?
Zoey Deschannel As Batgirl
Speaking of Batgirl, I was completely blown away when the ever lovely actress Zoey Deschannel took this selfie of her in the Batgirl costume for a very recent Halloween. I do have to admit that I am quite biased here and absolutely love the Deschannel sisters. Okay, I have a not so secret crush on them.
Her sister Emily Deschannel absolutely looked stunning when she dressed up as Wonder Woman for an episode of Bones, and she has even admitted to being a big fan of the character and Lynda Carter. In an interview, she even stated that her family had once given her a Wonder Woman costume as present, and no it wasn't the same one she wore on Bones. Click the link to see Emily in that costume as well as other celebrity women dressed as Wonder Woman.
However, Zoey Deschannel wins out here, because Emily was paid to dress up as the iconic Wonder Woman character, where Zoey suited up as a retro-looking Batgirl for the pure minded fun of it.
Brooke Burke As Catwoman
Rarrr! Who doesn't love Catwoman? The female DC superhero who drives Batman batty with her sultry and seductive feline prowess seems to be a favorite even in celebrity-land.
Here we have the lovely Brooke Burke, the television of host of Rock Star and winner of the seventh season of Dancing With The Stars and later hosting the show, looking quite stunning and sexy in a pretty awesome looking Catwoman costume one fine Halloween.
All I can say is, "Purrrrr-fect!"
Sarah Michelle Gellar as Wonder Woman
Okay, not only did I have to switch it up from Halloween costumes, but this picture of Jack Black as Spider-Man and Sarah Michelle Gellar as Wonder Woman was just too hilarious to pass up. Whoa! This is going way back at the 2002 MTV Movie awards in which Jack Black and Gellar did a Spider-Man spoof skit.
Sarah played both Mary Jane Watson and Wonder Woman, and the actress of Buffy The Vampire Fame looks pretty darn amazing in the iconic costume. Okay, Okay, so she's actually paid to do the bit and not in costume because she's a closet geek for the character, but, oh, well, you have to admit she doesn't look half-bad. Besides, the skit was pretty damn funny.
Aubrey O' Day As Catwoman
Holy hotness, Batman! Here we have Aubrey O' Day, another Reality T.V. star from MTV's Making The Band, putting a unique spin on the Catwoman costume one fine Halloween. This singer-song writer definitely gives Catwoman a more edgier, rock star look to the character, and it works out very well.

All I left to say about that is Wow!


Avril Lavine As Batgirl
Then we have none other than the pop rock star Avril Lavine going a little batty and dressing up as Batgirl for Halloween. Of all the celebrity females on this list, Avril is the one I can see the most actually being into comic books. Now, don't get me wrong here. I didn't say she was. I'm saying I can see her actually being into them than most of the other stars.
An interesting take on the Batgirl costume. It looks store bought. And that's perfectly fine. You don't have to know how to sow to pay homage to a comic character you like. Despite what some of the elitist cosplayers out there say, it's all about dressing up and having fun.
I'm not a judge, so I try not to. However, I do have one question? How come in celebrity-land, it's always DC Comic characters they dress up as. I've yet to see any dress up as a Marvel Comic character? Hmmm...
Adrianne Curry as Wonder Woman
Gaining fame from winning the reality television series America's Next Top Model, Adrianne Curry also garnered fame as a model and then appearing in VH1's fourth season of The Surreal Life where she met her future husband Christopher Knight.
Yes, that Christopher Knight that we all grew up watching as Peter Brady in the Brady Bunch. Sparking an on screen romance in The Surreal Life, the show My Fair Brady was immediately developed after starring Curry and Knight that documented their life together.
Anywho, enough of that jargon. Here's the thing: Adrianne Curry is actually a geek girl, who has been known to dress up as various gaming characters and comic characters at San Diego Comic Con. Actually, she's a fixture at Comic Con, and no, she doesn't get paid to do it either. She just likes doing it. Major bonus points!
This one can truly be said is cosplaying, and I think she looks great as Wonder Woman.